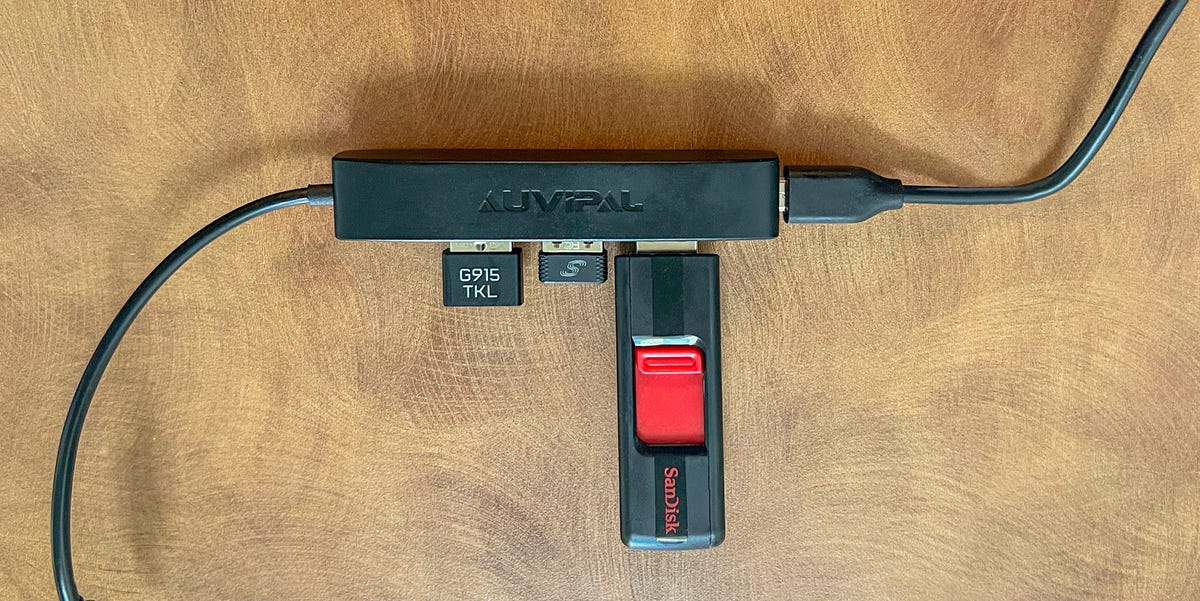 I've spent the past month testing streaming devices, and was left especially impressed by the value of Amazon's Fire TV Stick 4K Max. This stick retails for just $5 more than the regular Fire TV Stick 4K yet adds improved Wi-Fi 6 capabilities, much more computing power, and RAM. These upgrades translate to a snappier experience and allows for smooth 3D gaming. With this power, I found myself looking to create the ultimate living room media center. Unfortunately, the 8 gigabytes of onboard storage space fills up insanely fast. Plus, navigating the Fire TV interface with the included remote is a slog—typing on a browser or to search takes forever. This AuviPal OTG cable rectifies both of these complaints.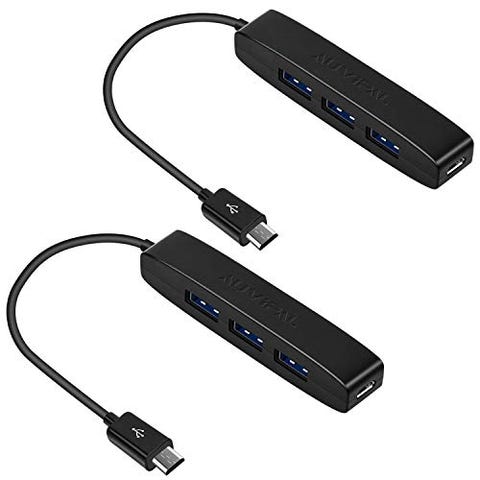 3-Port Micro USB OTG Hub Adapter (2-Pack)
AuviPal amazon.com
$14.99
An On-The-Go (OTG) cable connects directly to any Fire Stick's power cable via a port on the bottom of the hub to allow the Fire Stick to act as a host to other USB devices. With the hub receiving juice from this cable, you can plug in a wireless keyboard and mouse USB-A dongle, as well as add expandable storage space with a USB flash drive. This elevates the usability of the stick to that of a much pricier streaming box. With these capabilities, I can now browse the web from my couch, play more retro games, and store more movies. If you own a Fire Stick and share my frustrations, I cannot recommend this OTG cable enough. And setting it up is straightforward.
Connecting the hub to the Fire TV to provide power and link all the devices.
Hunter Fenollol
Step 1
Plug your Fires Stick's power cable directly into the bottom of the OTG hub. Now load up the hub with each desired accessory dongle (keyboard, gamepad, etc.) and/or USB drive. Then plug the Micro-USB cable hanging from the other end of the hub directly into the Firestick to provide it with power.
Step 2
Power on your mouse and keyboard to ensure they work as inputs. I would recommend opening a browser like Silk from the Amazon App Store to confirm navigation works with your inputs. If your keyboard and mouse also support Bluetooth (as mine do), you need to make sure the power switch is set to the USB option and not the Bluetooth one.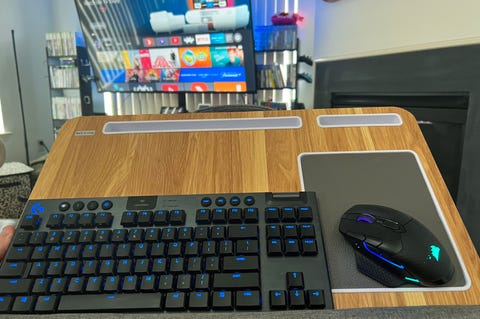 My mouse and keyboard control my Fire TV from the couch.
Hunter Fenollol
Step 3
WARNING: If you're using an old USB drive, make sure you back up any important data on the drive as formatting it deletes everything currently on the stick.
Now that we know these two devices work, scroll over to your settings cog, which is located all the way to the right from the main menu. Click into the tab labelled "My Fire TV," select "USB External Storage," and choose "Format Device" to make it compatible with the streaming stick for moving applications and media between your Fire Stick and USB drive.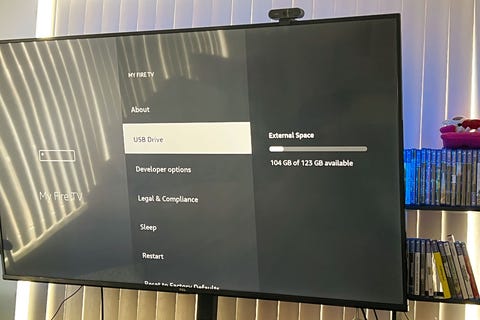 Formatting the USB drive.
Hunter Fenollol
Once you get the all-clear message, you can navigate back to your settings page, enter the "Manage Installed Applications" section indicated by the boxes icon, and select an app to transfer your data and games to the new storage drive. This is especially helpful for gamers as titles like Jackbox and Asphalt 8 can eat gigabytes of the paltry 8 GB included on the Fire Stick. Voila, you no longer have to uninstall games and redownload them. And navigating the TV is that much easier, as if it were a giant computer monitor.
This content is created and maintained by a third party, and imported onto this page to help users provide their email addresses. You may be able to find more information about this and similar content at piano.io